Travelling with an Infant
Practical guidance to make travelling with an Infant.
Answers to the most frequently asked questions
What age is an Infant?
Your child is considered an infant if they are under 2 years old.
Please note: Babies under a week old are not allowed to fly.
On the plane
During take-off and landing, you will be asked to hold your baby on your lap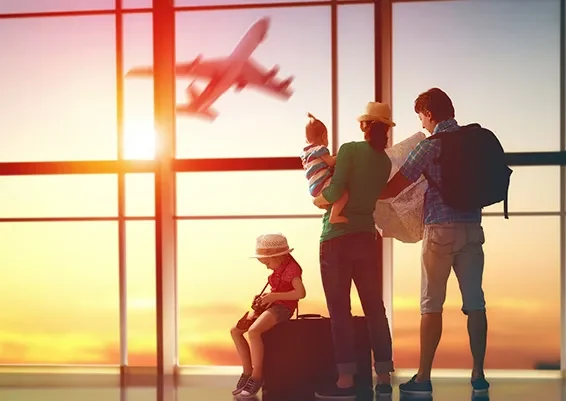 Can I travel with a pushchair?
In general, folding pushchairs are permitted up to the boarding gate. They will then be put in hold luggage by one of the airline staff.
Concerning non-folding/ big pushchairs, car seats and boosters, some airlines allow you to bring up two additional items free of charge. To find out more information, directly consult your airline.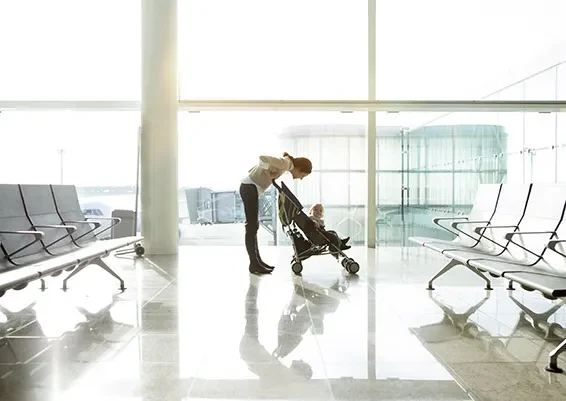 Hiring Baby Equipment
To save you from having to bring your pushchairs and other items to the airport, Nantes Atlantique Airport and its partners have set up a hiring service. As part of our Familliz service, you can hire pushchairs, car seats and cots for your infant. To make a reservation, visit https://www.bbvm-location.com
You can collect your items on arrival at the "Formalités et Services" counter (opposite Relay-Monop' Daily) on arrival.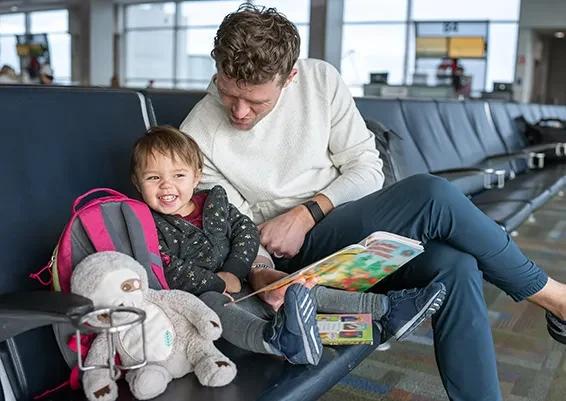 Where can I change my baby?
To change your baby at the airport, there are three nurseries
1 nursery opposite Check-in desks F, near to the "infirmerie"
2 nurseries at the boarding gates, in zooms 3B (gates 35 to 38) and 4B (gates 45 to 46)
Each nursery has a fitting table and microwave.
What can I take on the plane?
In reasonable quantities, milk, fruit juice, water and baby food are not affected by restrictions applying to liquids, aerosols and gels and can be brought onboard.
All these items must be presented separately to staff at security when your bags are being inspected.
You can bring toys on board the flight, and of course, soft toys are allowed! Bring toys that are not going to make noise and aren't going to disturb the cabin crew and other passengers (e.g. a water gun).