Passengers with Reduced Mobility (PRM)
Find out more about our special assistance service for Passengers with Reduced Mobility (PRM).
Who can use this special assistance?
This assistance is for anyone who has difficulty walking, climbing stairs, is in a wheelchair, is visually impaired, and anyone who is unable to independently get around the airport.
People with temporary mobility issues (for example, a leg in plaster) can also use this service.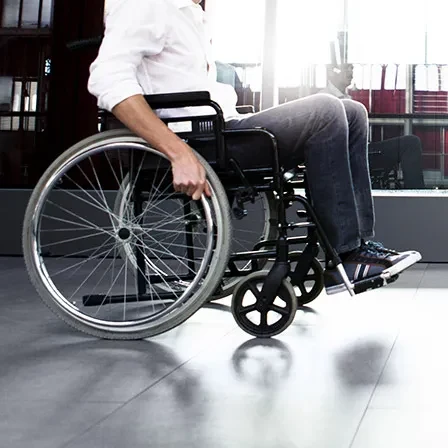 If you require special assistance, you must make a request at least 48 hours before your flight's departure time, by contacting:
your airline
your travel agency
your tour operator
Your request will then be specified in your booking reservation and passed on to the airport.  
The airport does not accept requests made directly by passengers.
Special assistance for People with Reduced Mobility will be provided: 
From the Reduced Mobility Waiting Area until you board the plane
From getting off the plane until baggage reclaim
For more information: Download the terms and conditions for the Reception and Care of People with Reduced Mobility (PDF format)  
What to do when you arrive at the airport: 
Check in at the time indicated by your airline or tour operator
If you have not been given this information, we advise you to check in at least 2 hours before take-off
Wheelchairs are available in the terminal.