Rhodes
Add to my wishlist
Manage my wishlists
Notify me when special offers are available
I no longer wish to be notified
The third biggest of the Greek Islands, Rhodes is well-known for its beautiful natural landscape and rich architecture and history.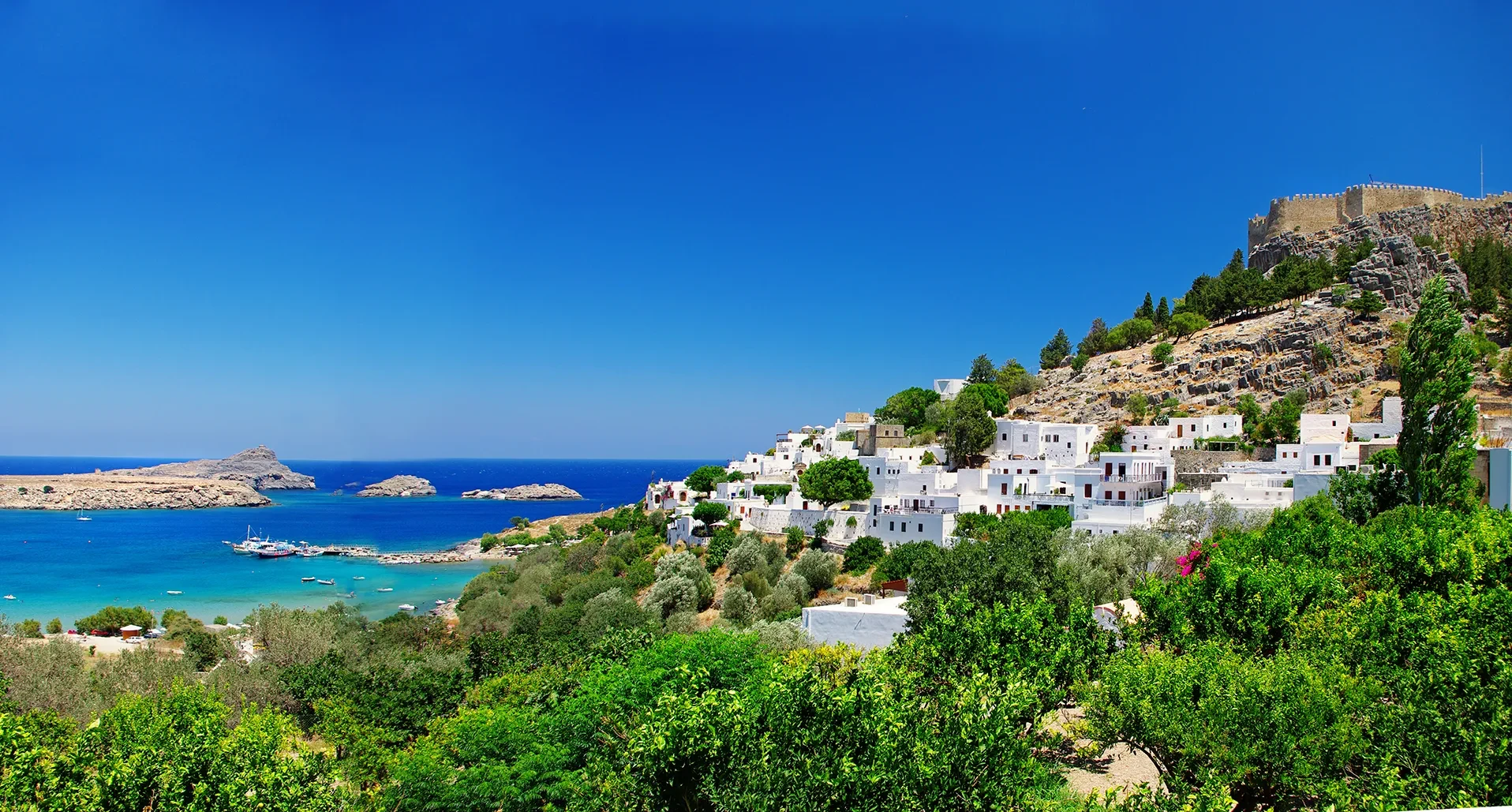 Direct flights
Nantes »

Rhodes
Monday
Tuesday
Wednesday
Thursday
Friday
Saturday
Sunday
Monday
Tuesday
Wednesday
Thursday
Friday
Saturday
Sunday
Blue figures
: direct flights from Nantes Atlantique Airport.
Best period to travel to

Rhodes
With beautiful weather all year round, and just 4 hours from Nantes, Rhodes is well worth visiting! In spring and autumn, the weather in this medieval city is warm and sunny. Summers are hot and dry, although comfortable thanks to the refreshing sea breeze. The winter months are a little milder, with an average temperature of 13℃ in December.
What Rhodes has to offer?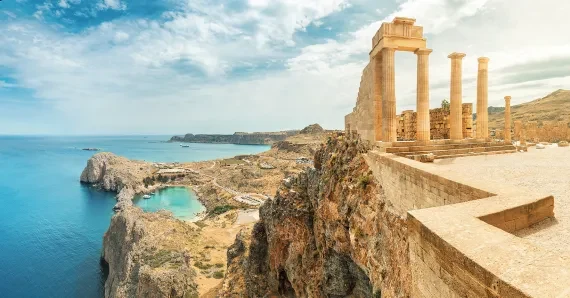 Island of Knights
Just 4 hours from Nantes, Rhodes is the largest island in the Dodecanese. In the old medieval town, the maze of charming, cobbled streets leads to the Clock Tower and the Palace of Grand Master of the Knights. Surrounded by high defensive walls, this medieval city is the best preserved in the world. It's a great place to explore life in the Middle Ages!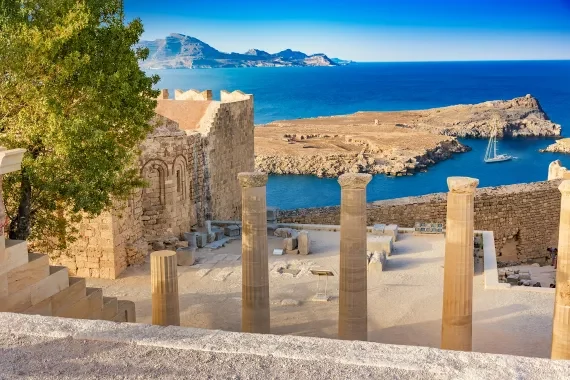 Antiquity
The Acropolis in Rhode is home to the remains of the temple dedicated to Apollo. Don't forget to visit Lindos, a pretty and traditional village with white houses overlooking the sea. At the top lies the ruins of the temple of Athena; and a superb view of the Aegean Sea. Finish your trip by stopping off at Kameiros, one of the most important archaeological sites in Greece.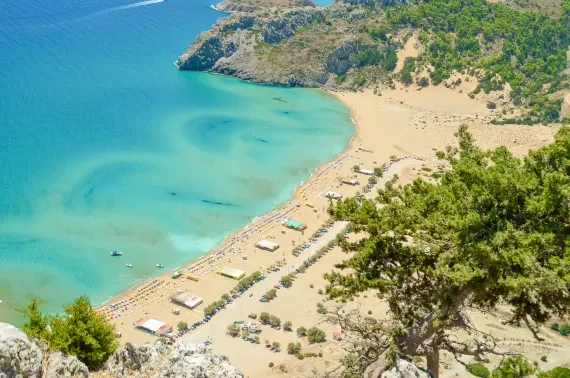 Relaxing in the sun!
Rhodes is an ideal destination for a week of sightseeing or relaxing in the sun. If you're looking for sandy beaches, the old fishing village of Pefkos is the perfect place to go! And the shallow waters make it great for families too! Just on the outskirts of Rhodes is Kallithea. With the emerald water and ancient thermal baths with unique architecture and mosaic floors, it's definitely worth visiting too!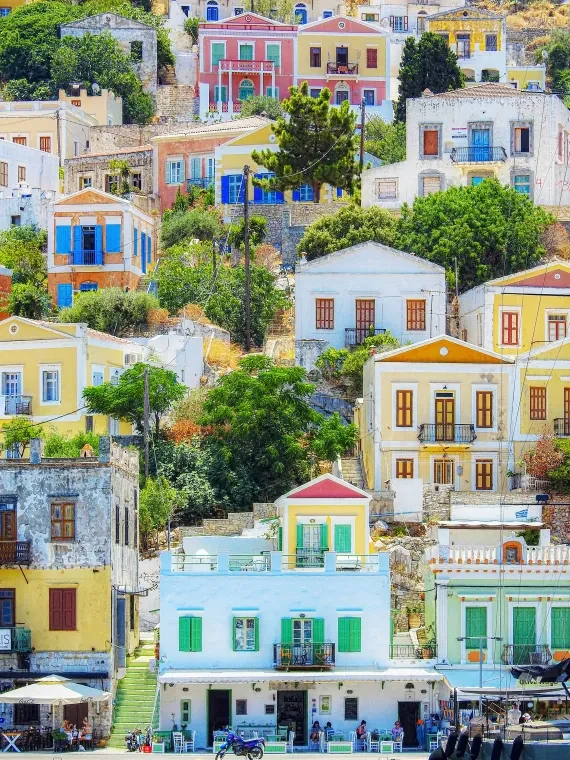 A day-trip to Symi
A 1-hour boat ride across the Aegean Sea, you'll reach the island of Symi. From the moment you get off at the port, you'll fall under the spell of the pastel houses on the hillside. Climb the 500-stone steps of Kali Strata to see the best view of the island. And don't forget to end the day with a meal by the water in a traditional fish tavern. 
Explore the city and its surroundings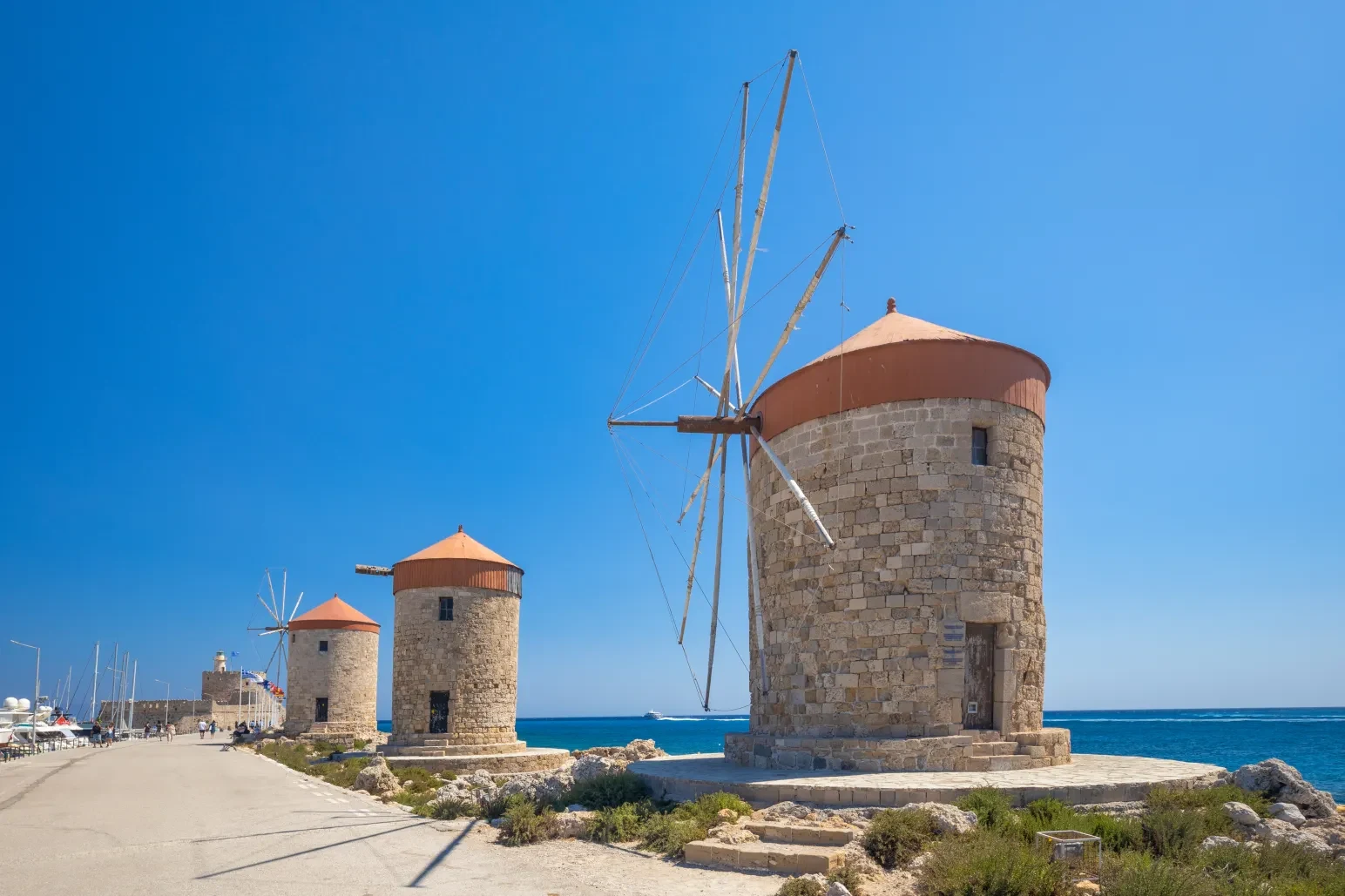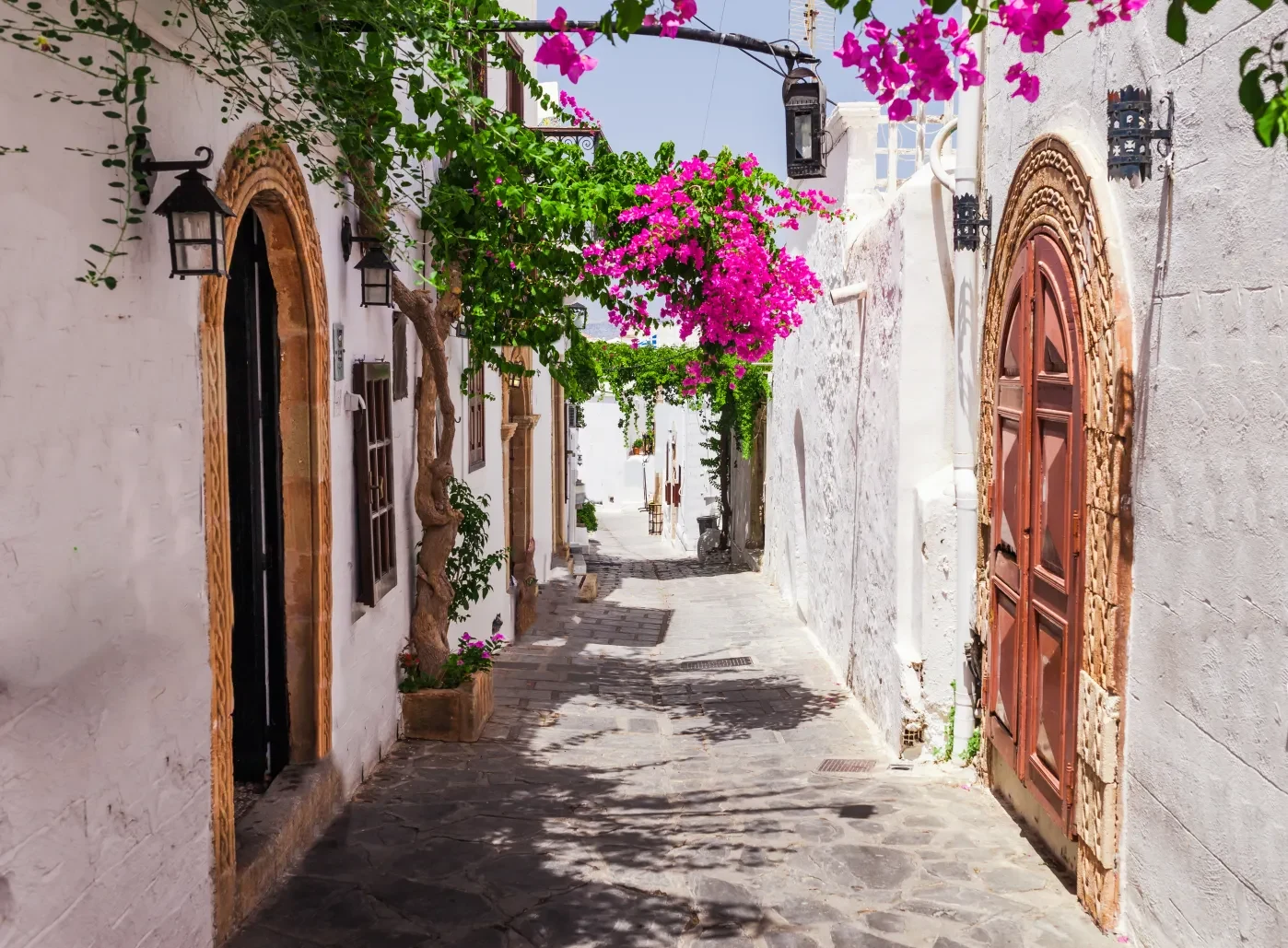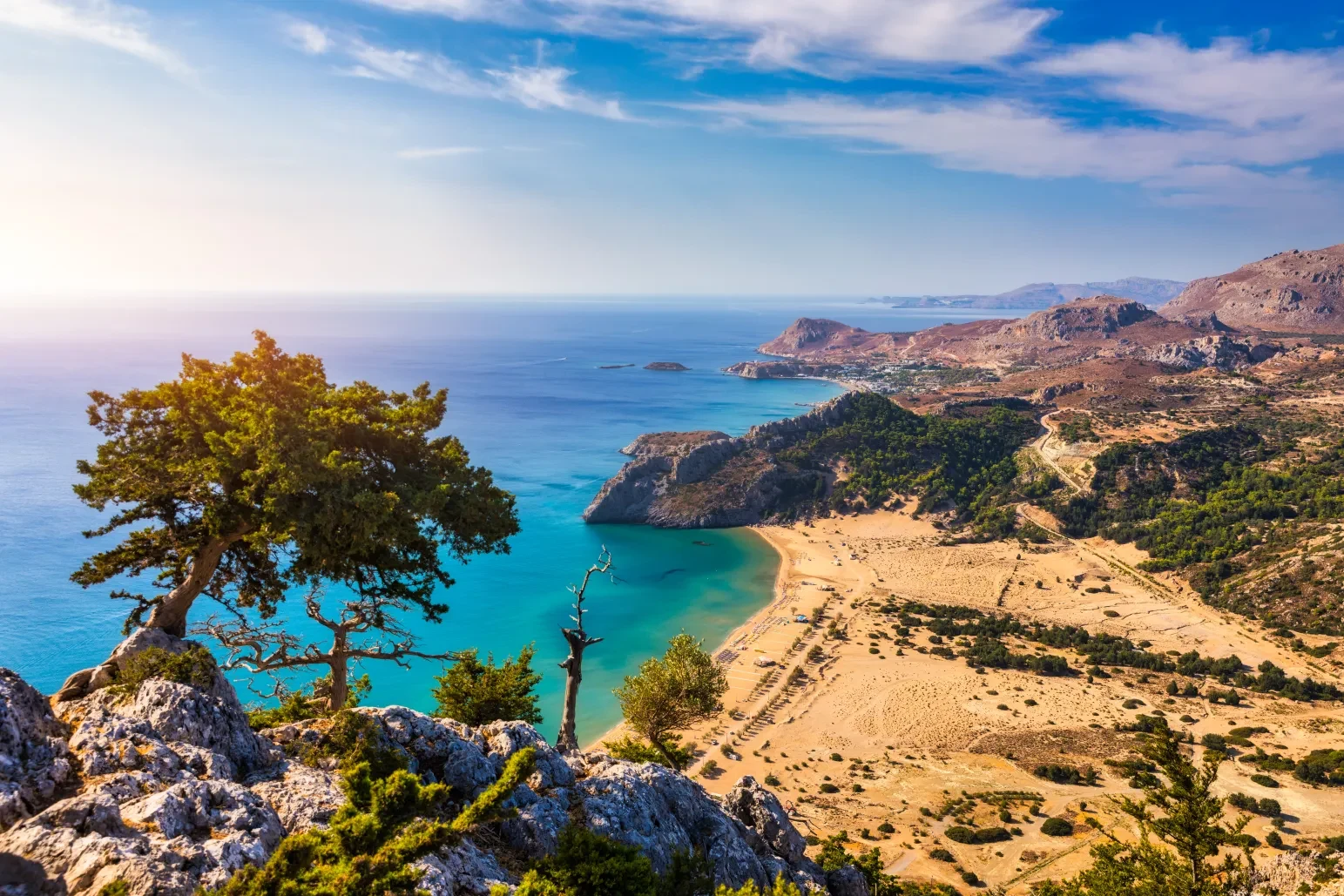 Add

Rhodes
Manage replace
Did you choose your destination on your wishlist? Have you completed your travel plan? Manage your lists the way you want!
Want to share your list? This link will allow your recipient to consult the destinations you have selected... and only that!
Access to your wishlist with this link:
Select destination to add to your wishlist