Amsterdam
Add to my wishlist
Manage my wishlists
Notify me when special offers are available
I no longer wish to be notified
Built by fishers, Amsterdam started out as a port before it became a city. It is without a doubt where the city's open-mindedness and liveliness come from. This is a city where the word 'freedom' takes on its full meaning.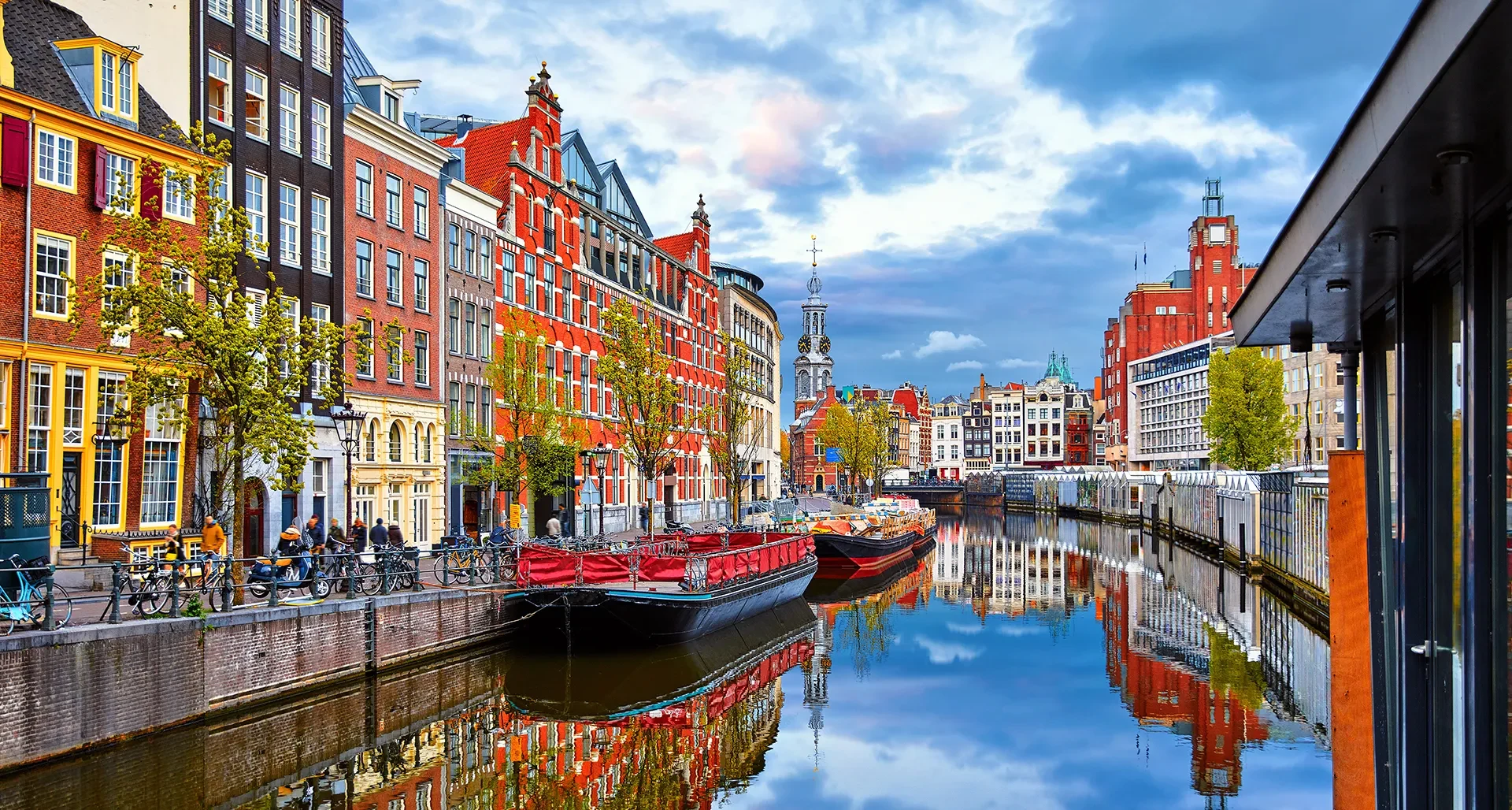 Direct flights
Nantes »

Amsterdam
Monday
Tuesday
Wednesday
Thursday
Friday
Saturday
Sunday
Monday
Tuesday
Wednesday
Thursday
Friday
Saturday
Sunday
Blue figures
: direct flights from Nantes Atlantique Airport.
Best period to travel to

Amsterdam
Just 1h30 from Nantes, Amsterdam is a great destination to visit all year round! The oceanic climate, thanks to the North Sea, means that Amsterdam's weather varies from season to season. Summers are sunny and sometimes wet, the perfect time for a gentle cycle through the city. In winter, the cool, frosty weather totally transforms the city, giving it a magical and cosy atmosphere. Once winter has passed, spring is the time to admire the tulips in bloom. Don't miss the chance to discover bright days and mild temperatures in autumn.  
What Amsterdam has to offer?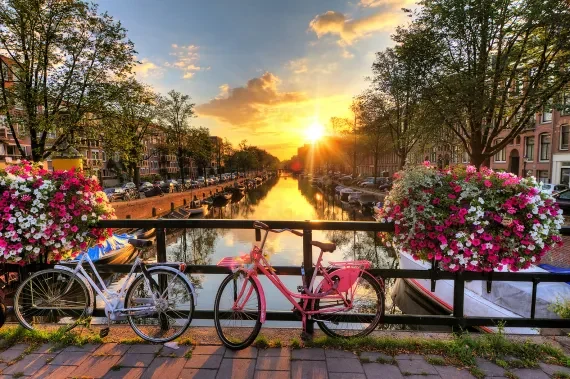 An Extraordinary City
Filled with bicycles, tulips, and tolerance, this city is one of a kind! Over the centuries, and on the water, it has managed to preserve the retro feel of its centre, unchanged since the 17th century, all whilst cultivating its avant-garde spirit.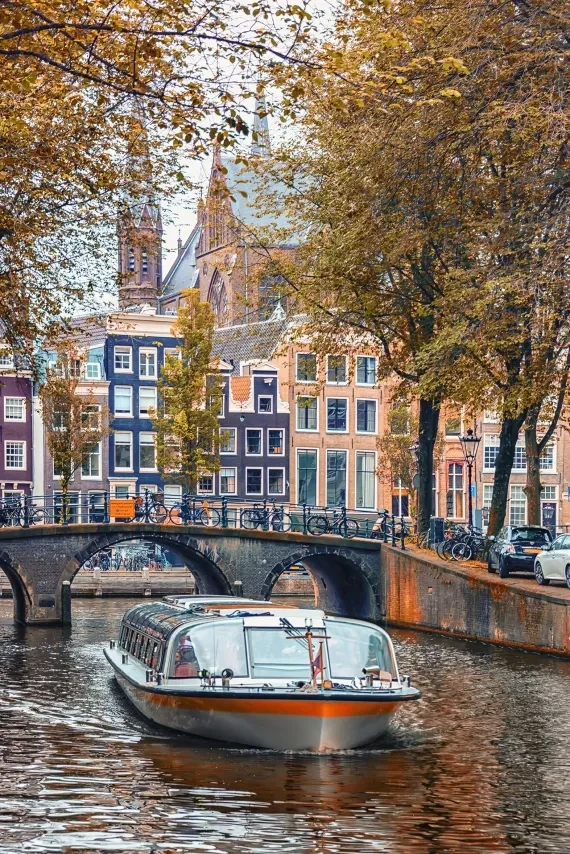 The City's Origins
Entirely below sea level, the city was built around water, with 160 canals and 1,281 bridges. More like a village than a city, Amsterdam is nevertheless full of charm: the gabled buildings, small boutiques, chic brasseries overlooking the canals, barges, and the distinctive noise of bicycles on cobblestones.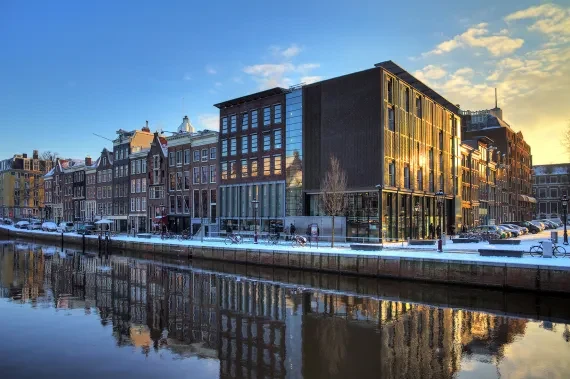 Tourist Attractions
With more than 45 museums- the Rijksmuseum, Stedelijk, Van Gogh Museum, and the House of Anne Frank to name a few- it's easy to see why Amsterdam is known as the cultural capital of the Netherlands.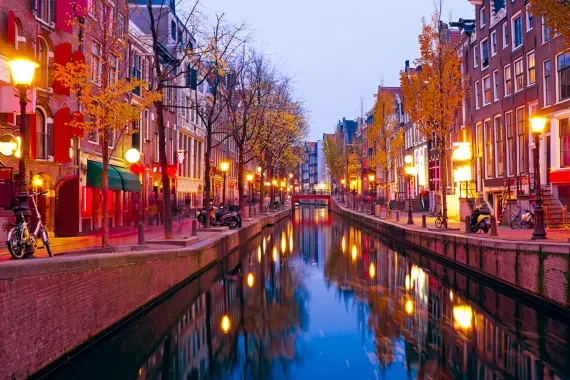 The Extraordinary Atmosphere
Hailed for its tolerance, Amsterdam is well-known for being diverse and open-minded. And the city would certainly not be what it is without the warmth and liveliness of the gay neighbourhood and its singing sailors.
Explore the city and its surroundings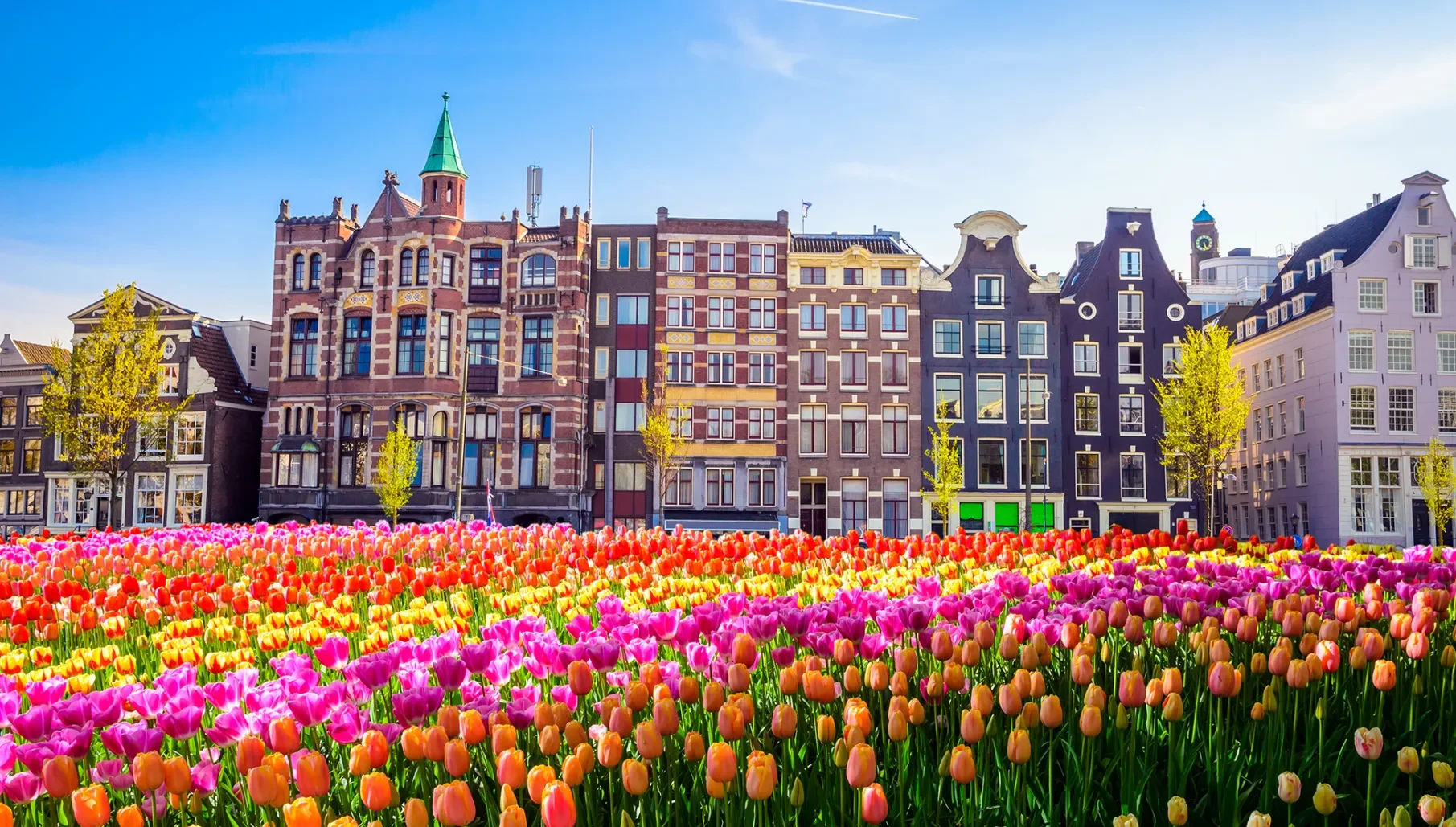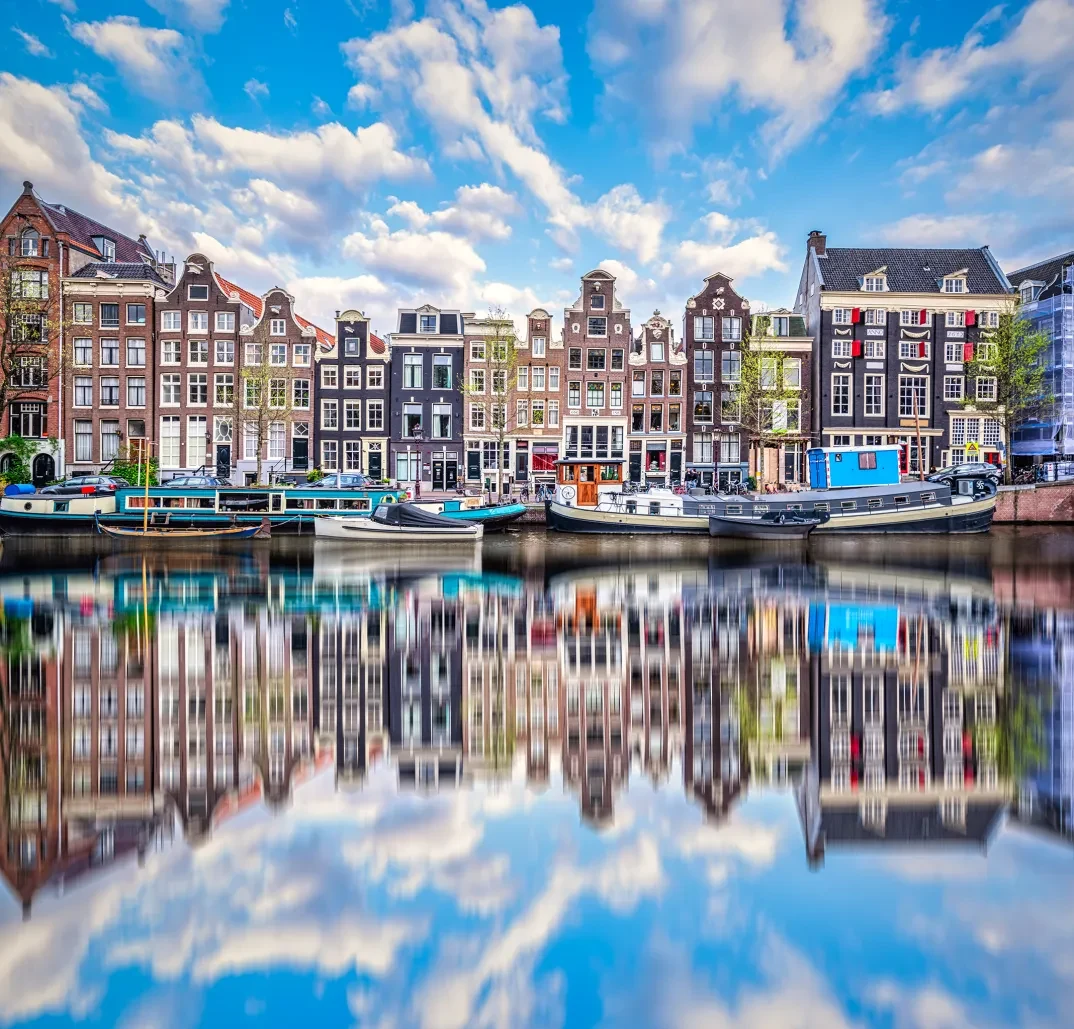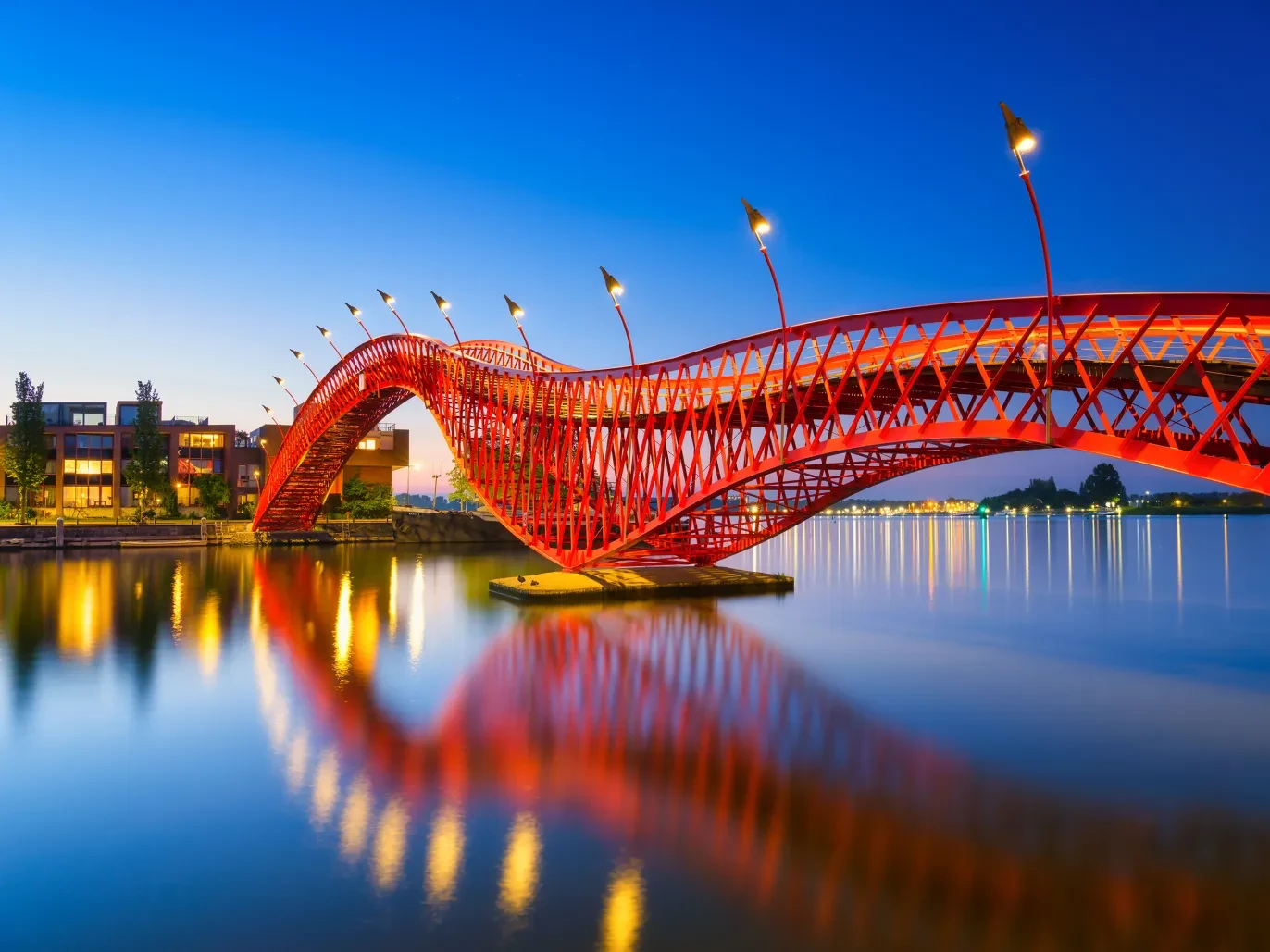 Nicest pics of

Amsterdam

on Instagram
Feel our destinations' good vibes on our Instagram ! #amsterdam
Add

Amsterdam
Manage replace
Did you choose your destination on your wishlist? Have you completed your travel plan? Manage your lists the way you want!
Want to share your list? This link will allow your recipient to consult the destinations you have selected... and only that!
Access to your wishlist with this link:
Select destination to add to your wishlist